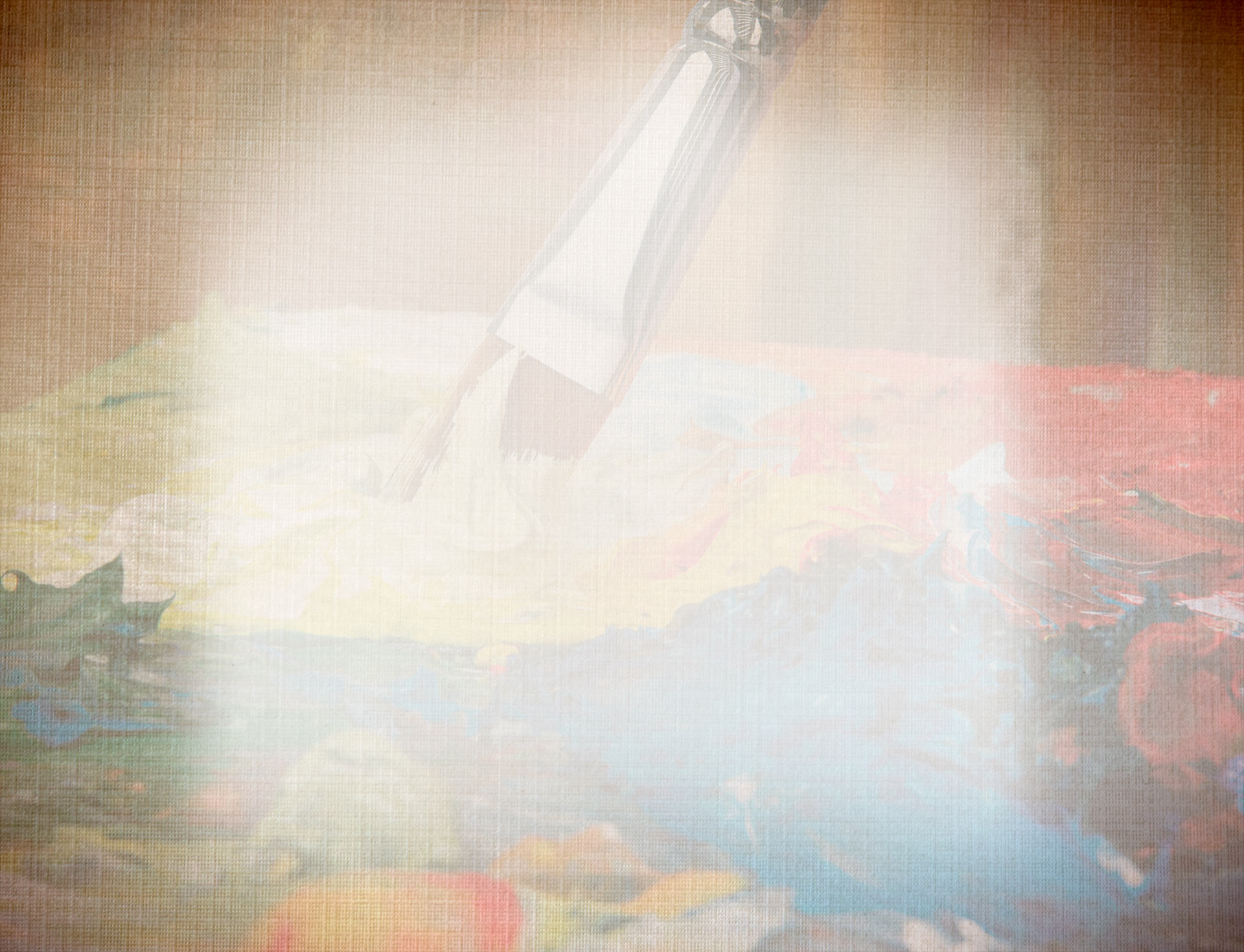 Hall of Fame Original Florida Highwaymen
Fort Pierce, Florida, A Legend of the Road!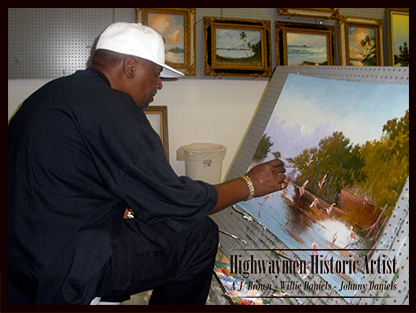 "The History Maker!" "Johnny Lee "Hook" Daniels
,
A legend of the Road, is an icon on the Highwaymen Heritage Trail, in Fort Pierce, Florida. The legend bridged the 2nd Generation to the Original Highwaymen.
Daniels began as a young boy. Born July 22, 1954, he started by making frames for the young group of painters in the mid-1960s and shortly afterward began his lifetime career painting as a teenager. Johnny painted directly after his brother Willie Daniels and today they both are recognized as essential parts of the Highwaymen history. Johnny was the youngest of the group but rank among the top ten in seniority of the early core Originals. The veteran painted authentic Florida over 40 years with the movement and is among the twenty-six Originals inducted into the Florida Artists Hall of Fame in 2004. His accolades were many when the icon died at the young age of fifty-four.
HONORED TO BE AMERICA'S HISTORY!
His work is valued in the ten's of thousands and is part of an exclusive collection of the United States of America, First Historic African American, 44th President Barack Obama. (Courtesy of AJ Brown, Daniels God-Niece)
The life of Johnny Daniels was a historic journey. Decades of teaching was dedicated to many. Daniels is known as the master instructor for being the only Original Highwaymen to bridge both generations by uniquely mentoring five of his closest friends, as 2nd Generation Highwaymen. Johnny's vision honored the tradition of both, his black art teacher Zanobia Jefferson and prominent white artist A.E. Backus. Backus's influence is reflected in Johnny's paintings. He was also influenced by his friend Livingston "Castro" Roberts and admired the work of Harold Newton and Alfred Hair.
Johnny Daniels the legend, the Highwaymen Heritage Trail, City of Fort Pierce:
As one of the leaders, a milestone was marked in 1970 for the young artists when Alfred Hair was tragically shot and killed at the young age of 29. In mourning of his death some stopped painting, Johnny was one of many who continued to earn his living through painting for over forty years. The legend Johnny Daniels, helped make Highwaymen Art what it is today!
Johnny Daniels taught twin brother's Jimmy and Johnny Stovall and then Kelvin Hair to paint. Johnny opened the Highwaymen Art Gallery at the Arcade building on US one and Orange ave in Fort Pierce, Florida. Johnny Daniels partnered with Johnny Stovall and Kelvin Hair and forever established their careers as the 2nd Generation through his Original Highwaymen status and endorsement.
Johnny left the gallery, to open a second gallery at 1725 Okeechobee Road, with his brother Original Hall of Fame Willie Daniels, who at the time was a veteran painter of 40 years. However, they soon severed business ties. Johnny exclusively mentored AJ Brown the only female in his camp and made her his next business partner. A friendship as close as kin, Johnny considered his partner as family. Johnny then taught Richard Edwards, a childhood friend of Kelvin, was the last to receive his teachings.
Johnny Lee Daniels, generously handed down his heritage nearly a decade before the group would unify as an organization. Just as AE Backus, Harold Newton, Alfred Hair, their visions were all the same. These icons were well within their rights to leave a legacy and helped make the Highwaymen what they are today. Johnny witnessed his unique group become members of "Florida Highwaymen 2nd Generation."
During the summer of May 2009-2011, the Originals and the 2nd Generation united for the first time, and formed the first historic 501(c) 3 organization! Florida Highwaymen Artist and History Center Inc. Mary Ann Carroll became the first elected female Highwayman president of the group. Both generations were board members and attended meetings. The Originals appointed several members of Johnny's essential group as official officers. Female AJ Brown was officially appointed the first Highwaymen secretary. R.L. Lewis renounced elected position was delegated to AJ Brown. Brown was also a member of the by-laws committee of four, Supervisor of Elections Gertrude Walker, Jimmy Stovall, and Lillie Knight; Kelvin Hair was the spokesman for the group.
These historic facts marked a significant era in time for which these relevant artists established their painting history, and held official office's. They can be known as the Highwaymen Historic Generation. Their privileges were sealed with the ultimate.
"Death of an elite! Original Hall of Fame Florida Highwaymen Artist Johnny Lee Daniels died, days after both generations unified, May 26, 2009." His death was a tragic loss. The year 2019, marks fifty years of service and contributions of documenting authentic Florida's history for legendary Johnny Daniels.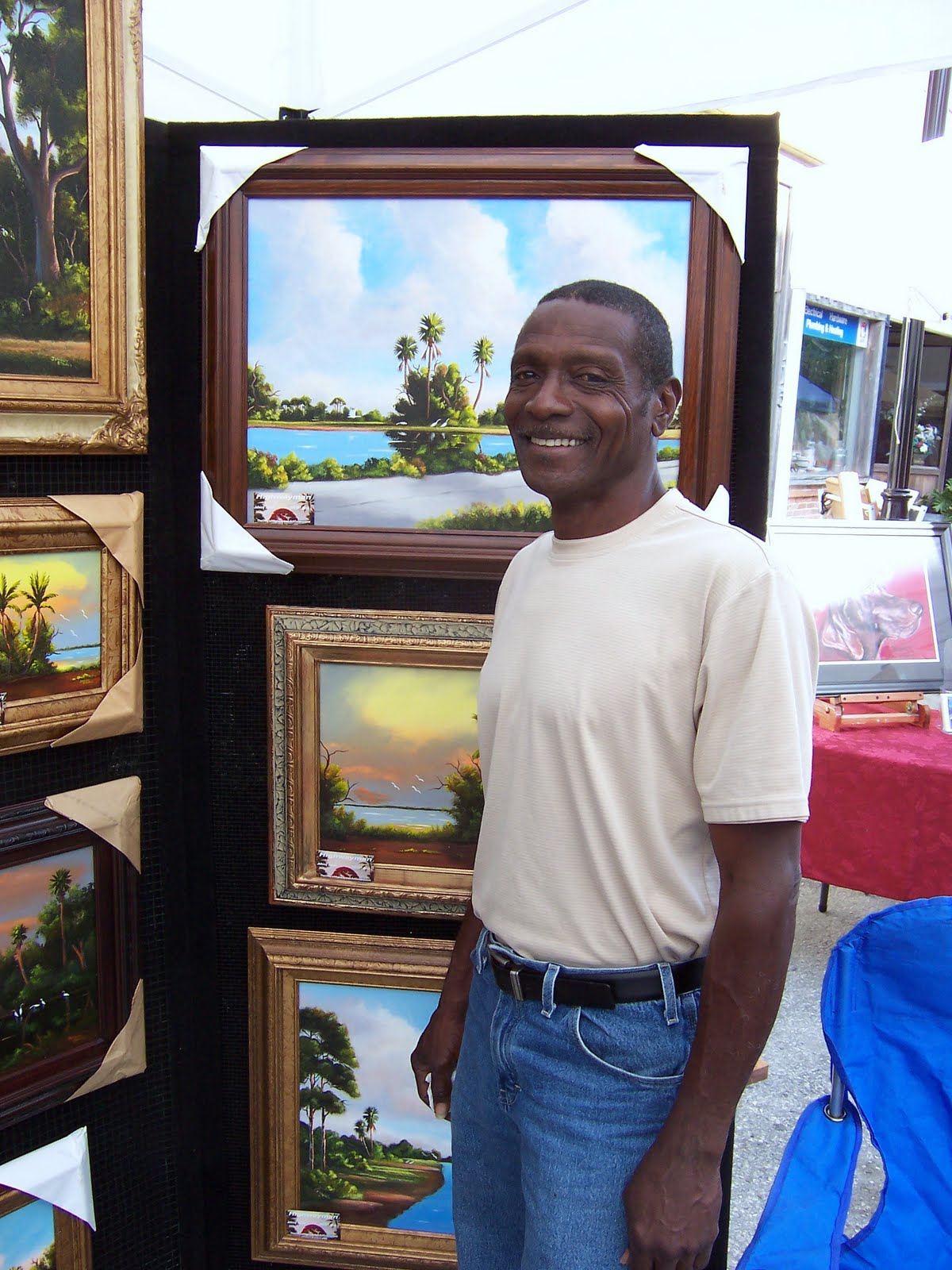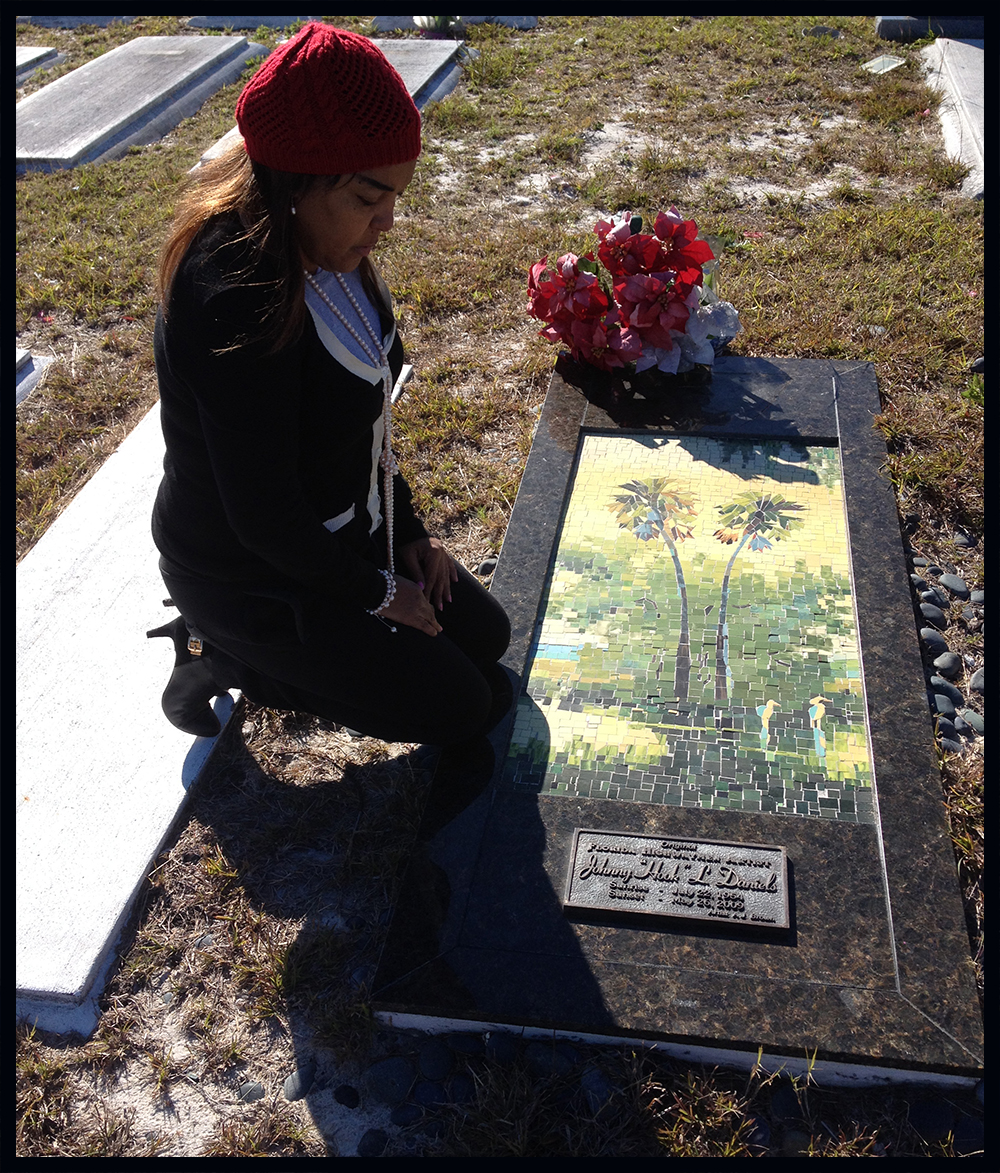 The summer of 2011, the 2nd 501(c) 3 organization was formed. Under new leadership, only the Originals and a few 2nd Generation members were allowed to attend the meetings. In 2012 Fort Pierce City Hall and Florida Humanities Council invested in the history of the Highwaymen. Created as the Highwaymen Trail, and Fort Pierce Tours, through-out the city, and the Highwaymen website is visited from around the world. Highlighted on these monuments, are each member of the Johnny Daniels legacy, as part of Highwaymen history.
Established in 1973, the "Second Generation Movement" began with family Roy McLendon Jr., several members were born during the 1950s and 60s Civil Rights Movement. Just as the "Originals" started with friends and family, the same 1950s tradition is found in the "Highwaymen Historic 2nd Generation." Makeshift assembly-line easels, back-yard studio's, sells of wet paint on Masonite, from the trunk of the car to road-side painting, all are handed down traditions. "They are one group, the descendants, the legacy, the heritage and the hand-picked are the 2nd Generation, of the "Original Florida Highwaymen Artists."
Thank you America, for treating all our generations as worthy!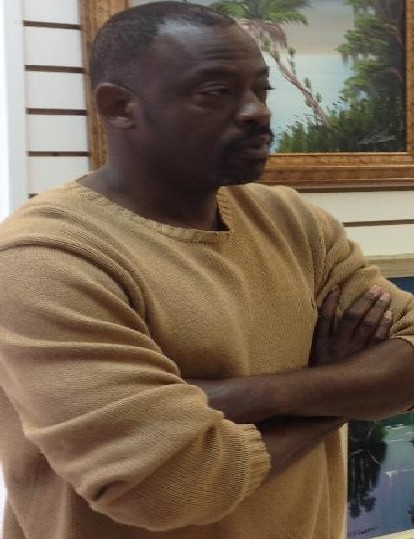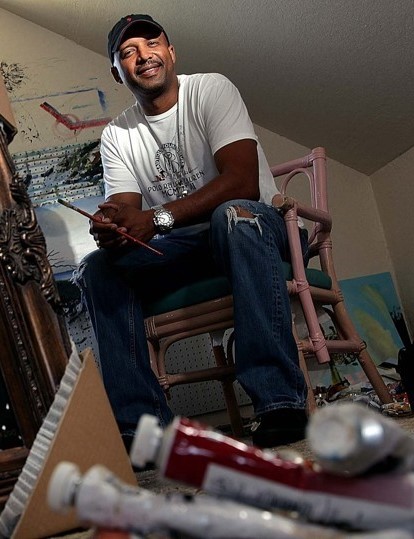 Johnny Daniels an American pioneer passed on May 26, 2009. He is buried at Pine Grove Cemetery in Fort Pierce, Florida. Block 1000, Avenue L Section 2-N; among several other Highwaymen. AJ Brown was authorized by his beneficiary Ms. Curley Daniels and commissioned by the manager of Cultural Affairs Ms. Jody Bonet to construct his grave-site monument. January 26, 2010, Ms. Daniels named AJ Brown as God family.
It was August 2011, when heirs named AJ Brown legal representative and spokesperson of Daniel's art estate, proceeds benefit heirs. Highwaymen dealers, art councils, state of Florida, educational institutions, museums, and alike are of course welcome to continue representing the Original Hall of Fame, Florida Highwaymen Johnny Daniels as they have for over four decades. The unique Florida Highwaymen persisted through a segregated era when all odds were against them. Only a mere few may claim the honor Original or 2nd Generation Highwaymen.
Thank you, America!